SEATTLE MEISNER CLASSES FALL QUARTER
We're excited to announce that Meisner classes are returning this fall to Playhouse Northwest Acting School!
The structured Meisner classes are the backbone of what we do. These classes are designed to be taken in sequence, each level lasting nine weeks. At each level on-camera, improvisational, and business skills will be interwoven into the curriculum. If you're serious about transforming your acting, this is the place to start. For professional actors in film and television, it's no secret that Meisner work is their superpower in both their life and career. The benefits include a greater sense of truth, emotional depth, and flexibility in your work.
Upcoming Sessions 2019
Fall Schedule: Starts October 2nd and runs through December 7th
New Class Times
Wednesday Evenings 6:15pm – 8: 45pm
Where: Youngstown Cultural Arts Center
Instructor: Lisa Skvarla playhousenw.com/lisa-skvarla/
If any classes are missed due on PHNW's part we will schedule a makeup class.
Dates (Wednesdays)
October 2nd
October 9th
October 16th
October 23rd
October 30th
November 6th
November 13th
November 20th
November 27th NO CLASS (Thanksgiving)
Dec 4th
Make Up and/or Extra Class
Sat. December 7th 1-4pm
Price: $375
Creative Financing available on request. Call the PHNW office at 206-919-7407.
Level 1-3 are welcome in this class. Some students are in between levels and that's fine. We will work students where they left off.
(Level 4 Class will be on different dates TBA )
To register or for class descriptions go
to playhousenw.com/meisnerregistration/
You're invited to Playhouse NW's Regional Fall Potluck Retreat!
(This encompasses the states of WA. ID and OR)
Saturday, October 5, 10:00 am – 5:00 pm at Starlight Amphitheater, Cle Elum, WA
Schedule:
10:00 am – 10:30 am, Event Opens.
10:30 am – 12:45 pm, Morning Acting Class
1:00 – 2:45 pm, Potluck BBQ and Networking
3:00 – 4:30 pm, Open Mic
4:30 – 5:00pm, Event Concludes
Gather together this fall with fellow actors, friends, family, and industry folks alike. This is the time of year to learn, play, network, and celebrate the change of season. School time!
And speaking of school, we kick off the event with a morning acting class at Starlight Amphitheater. You're welcome to bring scripts, monologues, or audition pieces to practice. Advanced Meisner work is encouraged as well. If you don't want to bring anything, no worries. Everyone will participate in warm-ups, acting games, Meisner foundation, and group improvisation work too. Super fun! All levels and ages of actors are welcome.
Immediately following the class the Potluck BBQ begins. Bring your favorite side dish, snack, or dessert to share. We will supply grills, meats, plates, silverware, and drinks. Enjoy the wonderful food, camaraderie, sunshine, and beautiful scenery! After the BBQ, take a seat and enjoy the show. It's OPEN MIC at Starlight Amphitheater! Music and entertainment will be provided by local artists.
Requested ticket donation for this event: $20
(This $ goes towards porta-potties, talent stipends, tent, advertising, etc.. and any extra expenses.)
Free for current year Playhouse NW students.
All are welcome and all donation amounts are welcome.
You can pay here.
Thank you in advance for your generosity!
After the event concludes, feel free to camp out, go to dinner in town, stay at a local hotel, or drive home. We usually have this event in August, and during October it may be a bit chilly. However, the good news is we don't have to deal with fires 🙂 Dress in layers and wear comfortable shoes. We will definitely keep you updated regarding the weather, so stay tuned.
About Starlight Amphitheater: Hidden on 25 acres of natural forest on top of a stunning mountain, the amphitheater is an all-natural haven for the expression of the human soul. Artists of all kinds are welcome. It's a source of joy whether you are there to perform, relax, or simply watch others. This family-built amphitheater is a work in progress. A dream inspired by art, nature, love, and living in the beautiful Pacific Northwest. We hope you enjoy this place as much as we do!
Sincerely,
The Skvarla Family
Lisa, Joe, Kathryn, and Stephen
INTRO TO MEISNER TECHNIQUE IN BELLINGHAM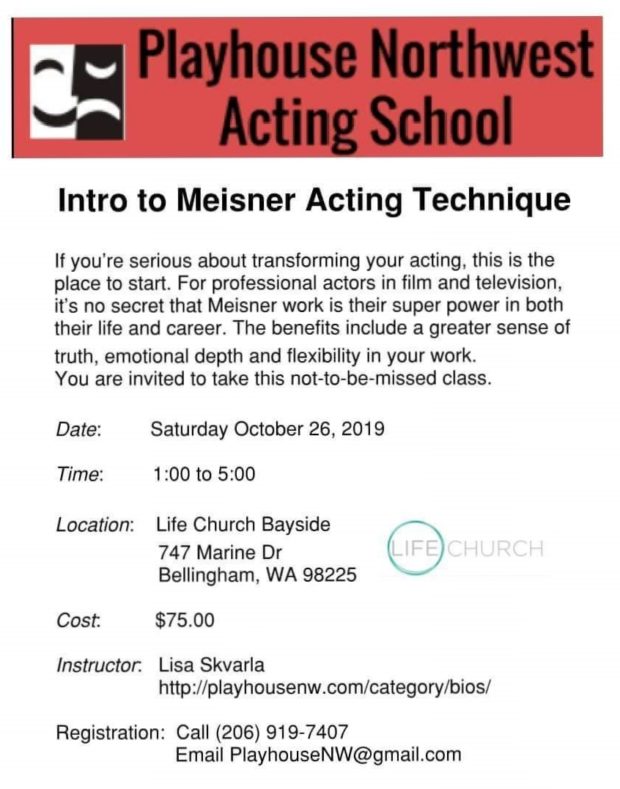 Kids/Teens On-Camera Acting and Action Class
Get the best of both worlds, acting and martial arts. This class is super educational and super fun!
This 2-day workshop includes:
Basic skills for on-camera auditions
Onset etiquette and terminology
Improvisation
Taekwondo
Action choreography
Intro to Meisner acting technique
Nunchucks…and more!
Where: Freedom Martial Arts Academy
2908 Meridian Ave E #107
Edgewood WA. 98371
When: Sat November 16th 1:00- 4: 00 pm
Sun November 17th 11:00- 2:00 pm
Instructor: Lisa Skvarla (playhousenw.com/lisa-skvarla/)
Cost: $125 for both days
$75 for one day
To register, please call the Playhouse Northwest office at 206-919-7407.