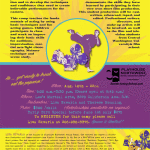 This one week camp will  children to use their imagination and to develop the techniques and confidence they need to create believable performances for the camera.This camp teaches the fundamentals of acting by using basic techniques and fun acting games. Children participate in class and work on improving their basic skills for auditions,improvisation, martial arts/fight choreography, Meisner technique and scene study.
By the end of the week, all of our students will have the opportunity to demonstrate the skills they have
learned by participating in their very own short film production.This student production will be cast,written, rehearsed, taped, and edited. Professional writers,directors, and make-up artists will be involved, as well as the film and television students from Central Washington University film school.
When: Aug. 18th – 22nd
Time: 9:00 a.m.-3:30 p.m. (Doors open at 8:45 a.m.)
Where: Lee's Martial Arts, 3270 California Ave. S.W.
Instructors: Lisa Skvarla and Therese Henning.
Price: $300 /child (Scholarships available on request) Early Bird Special before June 1st only $275
To REGISTER for this camp please call Lisa Skvarla at 206-938-3375. Space is limited!